This is the relationship between Haruka Kasugano and Kazuha Migiwa from Kazuha's arc (anime)/route (visual novel).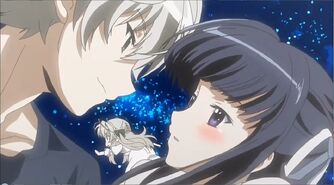 The relationship was formed around the events where Kazuha worried that Akira might possibly her long-lost half-sister, although this assumption was later revealed to be false due to DNA tests.
When first seeing Haruka, Kazuha says he's cute.
Ad blocker interference detected!
Wikia is a free-to-use site that makes money from advertising. We have a modified experience for viewers using ad blockers

Wikia is not accessible if you've made further modifications. Remove the custom ad blocker rule(s) and the page will load as expected.