There are 12
episodes
in the anime series.
These episodes do not form a single continuous story, but rather, 4 different stories based on different plot branches.
Ultimately, how these branches tie together, is explained in Haruka's inner monologue by the end.
The naming of the story arcs is generally done on the basis of which girl that Haruka pursues romantically. The arcs are: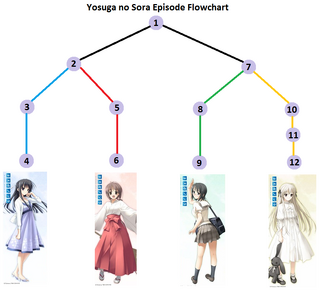 The first episode is shared in all arcs. The 2nd episode is shared by the first pair of arcs, and the 7th episode is shared by the second pair. Episodes 3-4, 5-6, 8-9 and 10-12 are episodes unique to a specific arc and not shared amongst others. The first 3 arcs are 4 episodes long, and the final is 5 episodes.
2+7 is the first divergence point. After that, 3+5 and 8+10 are the 2nd branching.